We offer hearing aids from most of the big companies at fair, low, prices compared to our competitors – also compared to prices in other countries too.
This page will explain what you can and cannot expect if you want to buy hearing aids from us. Especially why the prices are different on our webpage for Danish citizens compared to your price is explained down below.
The Danish health insurance.
If you have access to the Danish health insurance, you have an option to get your hearing aid at a public clinic or get a subsidy of 6.477,- DKK for your hearing aids in one of many private clinics – the remaining amount is added as self-payment.
(Note that the amount of money is changed every year, this is valid for 2018)
The prices shown on our Danish website, see Priser(prices), is the price AFTER this amount has been subtracted, and also the price for a single hearing aid. If you find a hearing aid on our webpage listed as 6.990,- DKK, and you want to know the actual price you have to pay as a non-danish citizen, the calculation will be as follows:
The price for a pair of Signia Nx7 hearing aid: 2 times 6.990,- plus 6.477,- kr for a total of 20.467,- DKK.
Since only a part and not all the amount is including 25% VAT, you might be able to get the VAT back if exported, but please note that not the entire the amount is subject to VAT.
Some examples of the top models we carry are listed below. Please feel free to ask us any questions regarding our products and prices on info@sdhk.dk
Signia Nx 7
Signia Nx7 is the leading top product from Signia as of this writing. It features direct streaming and is the first product featuring first own-voice processing and clear, natural sound.
Set price incl. VAT: 20.476,- DKK
Please note that not the entire amount is subject to 25% VAT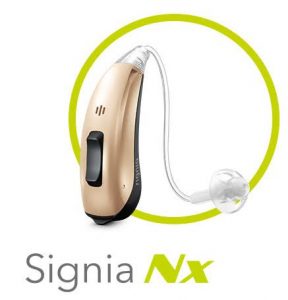 Phonak B90
Phonak has many options and versions, and a leading role may be in the market for severe/profound hearing losses and also CROS-systems.
The new B program comes in different sizes and versions for direct streaming to any BT-enabled phone and also in a rechargeable version.
Set price incl. VAT: 20.476,- DKK
Please note that not the entire amount is subject to 25% VAT and this is the price for the plan B version (meaning not the R and "direct" versions)